To sign up using our website, you must first open your internet browser and enter our website www.deferit.com
This will take you to our welcome page as pictured below: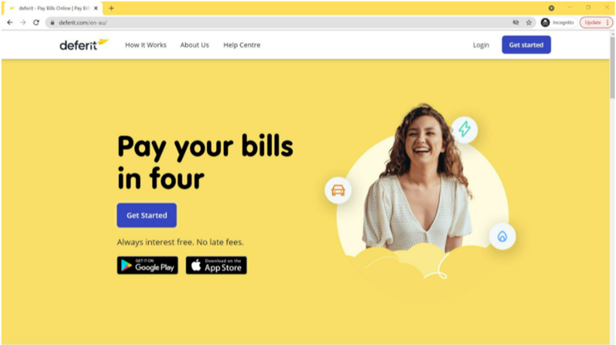 To create your account, please select "Get Started". You will then need to enter your email address and choose your password. Once completed, please click on the purple "Sign Up" button at the bottom of the page.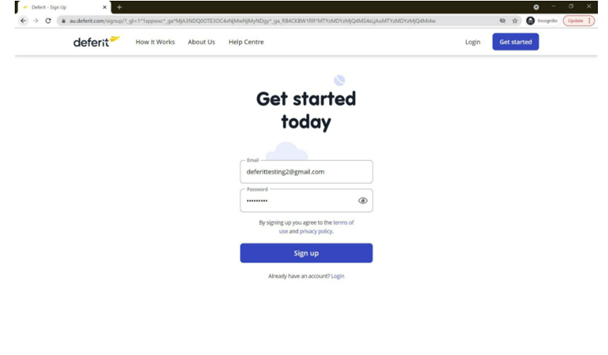 Once you have signed up, you will then be taken to your home page. To complete your account setup, please click on the purple button labelled "Upload a bill".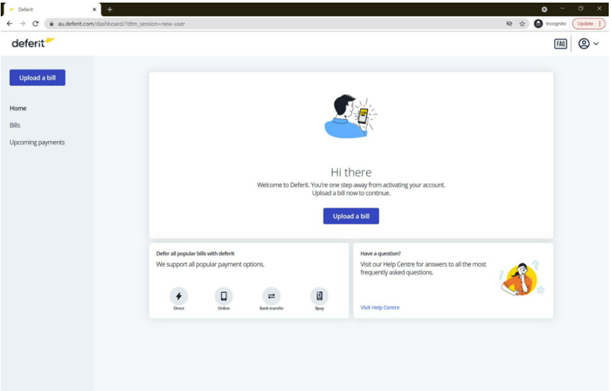 The first step of uploading your bill is to select how you would like to upload your bill, clicking this button will open up your files. Please select either a file or an image of your bill.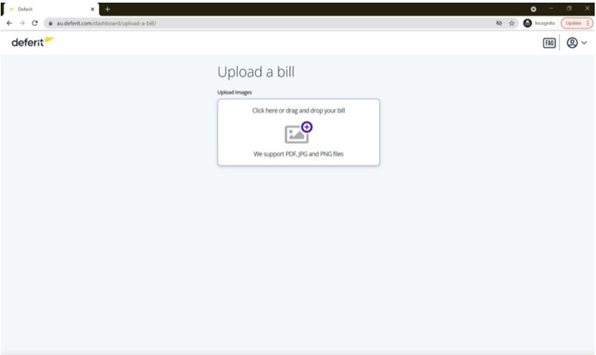 After your bill has been selected, you will be asked to choose what day you would like the bill paid, and how much you would like paid. Please fill this out and click on the purple "Continue" button at the bottom of the page.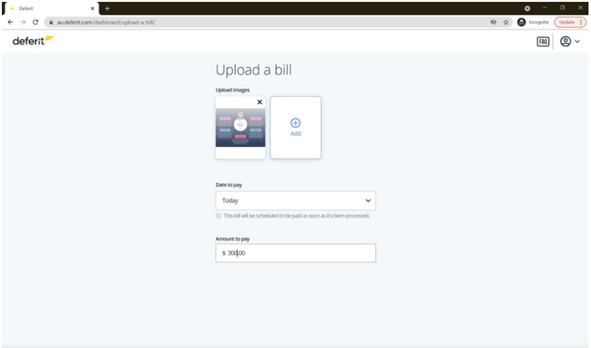 The system will then get you to enter your mobile number so we can verify and add it to your account details. Once you have entered your mobile number, please click on "Send Code" to receive your 6-digit verification code. You will receive a text message with your code, please enter the verification code in the boxes.
Once your mobile number has been verified you will need to fill out your personal details so we can verify your identity. The system will ask for your legal full name, date of birth, and residential address. After you fill this out you will have to decide if you agree to the terms and conditions before clicking the "Continue" button.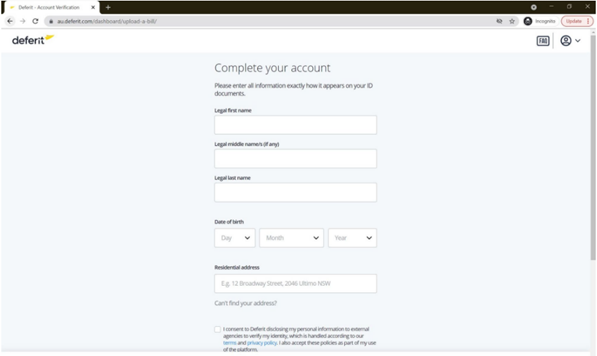 If you choose to agree to the terms and conditions, you will then be asked to enter your card details so we are able to automatically attempt the instalments from this card. The card you decide to upload must be:
Visa debit or MasterCard
More than 3 months away from expiry
Have at least $0.50 on it at the time of upload
We conduct what's known as a pre-authorisation check where we temporarily put a hold on 50c on the card and then instantly release those funds. We do this to make sure we know the card is able to be charged for payments.
Finally, you will be asked to confirm all the details for the bill, such as the bill itself, the amount to pay and the date to pay, all of which can be changed up until this point. You are also given the opportunity to add any additional information in the drop-down box at the bottom of the screen. If you are happy with your bill upload all you need to do now is press the black "Submit" button. This will send your bill into processing, once it has finalised processing you will receive an email to let you know the outcome.
You have now successfully created a Deferit account and uploaded your first bill!